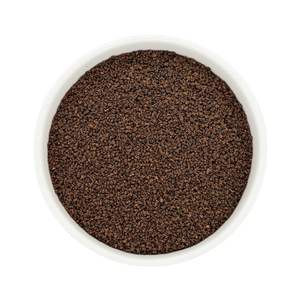 Assam Black CTC BP 5kg Organic
Product Specification Sheet

Product Code
P970
Common Name
Assam Black 
Botanical Name
Camellia sinensis var. assamica
Product Type
Black Tea
Origin
India
Grade
Organic
Description
Oxidized cut leaves of Camelia sinensis
Appearance
Black oxidized leaves
Packaging
5kg 
Organic Certification
Certified Organic by KIWA BCS Oko Garantie GmbH according to
Council Regulation (EC) No. 834/2007
Halaal Certification
Halaal Foundation of South Africa
Kosher Certification
Union of Orthodox Synagogues of South Afrca - Beth Din
Treatment Declaration
This product has been heat treated
Irradiation Declaration
This product has not been Irradiated
GMO Declaration
This product is GMO-Free
Allergen Status
Does not contain any allergens; stored carefully and separate from the following allergens; Spices, Herbs, Fruit, Flowers and Tea.
Storage & Shelf Life
5 Years recommendation from production date.